TCU Announces Teacher Appreciation Scholarship Recipients: Congrats to all the winners!
Tremont Credit Union hosted its 2nd Annual Boston Public Schools Teacher Appreciation Scholarship Program. The program offers classroom scholarships for three dedicated professionals who demonstrated commitment to careers in education. Many Boston teachers spend $1,000 or more on their students and classroom needs.
Teachers were nominated by colleagues, friends and family members who believe these teachers go above and beyond and stand out from all the rest. A selection committee evaluated all 89 nominations and scored them using a scoring rubric. The top ten highest scored nominees were announced, and public voting takes place. This year, we received 4,678 total votes. The top three teachers who receive the greatest cumulative votes receive scholarships for their classrooms.
First Place Recipient: Louise Kent, a special education teacher at Brighton High School to receive $1,500
Second Place Recipient: Karen (Kiki) McCarthy, a teacher at Snowden International School to receive $500
Third Place Recipient: Josephine (Josie) Glausen, a teacher at Excel High School to receive $250
For more information, please call 781.843.5626 or visit tremontcu.org.
About Tremont Credit Union: Tremont Credit Union (TCU) currently provides financial services to approximately 20,000 members operating from four locations; 350 Longwood Avenue, Boston; 150 Grossman Drive, Braintree; 10 Corinth Street, Roslindale; and, 180 Mount Vernon Street, Dorchester and coming soon Two Granite Avenue, Milton. With a focus and strong roots in the education and healthcare segments, TCU continues to support their founding Select Employee Groups: The Boston Teachers Union and Boston Children's Hospital. Membership is available to those who live or work in Middlesex, Norfolk, and Suffolk Counties.
---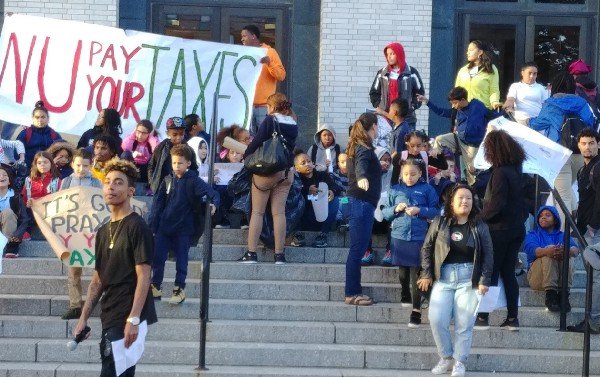 BPS Students Push for PILOT Payments
Earlier this month, BPS students who are part of the St. Stephen's Youth Program organized a campus demonstration at Northeastern University to pressure wealthy universities to contribute more to the city via the PILOT (Payment In Lieu Of Taxes) program.
The BTU is proud to be a leader in the Pilot Action Group. Read the full article on the Schoolyard News website.