Jessica Tang is poised to become president of the Boston Teachers Union when the current president steps down this summer. Tang has served as the BTU's director of organizing since the position's creation in 2013, where she led several policy campaigns and community organizing efforts. She was a union board member before that. Tang is the uncontested candidate to take over from President Richard Stutman when he resigns.
With Tang's advancement, the BTU will join the ranks of several other major Boston local unions helmed by people of color. In the role she will represent approximately 7,000 actively-working union members and about 3,500 members who are retirees. The presidential term length is two years. May 3 closed the primary elections, which were held only for those races with more than two contenders. Final appointments will be decided via the general election this June 7. Tang is running with a slate of officers that includes music teacher Johnny McInnis as candidate for political director.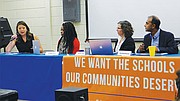 Holistic movement
Tang says she intends to continue taking a holistic approach to improving outcomes for students. This includes not only advocating for more public education funding, but also weighing in on policies that impact students' lives outside the classroom — and thus their ability to perform within it.
"We also are advocating against a lot of harmful policies that hurt our families that may not seem directly related to education, but impact our students' abilities to have schooling," Tang said in a Banner phone interview. "We are talking broadly about building a movement for social justice that includes economic justice … [and] racial justice. … The fight for public education goes hand in hand with these other fights."
This philosophy has led the BTU to participate in immigrant rights demonstrations, including with the Cosecha movement and other groups on May 1; support the Fight for $15; hold teach-ins on the day of the People's Climate March; join the Women's March on D.C.; participate in affordable housing demonstrations; and advocate for diversity work. Within the BTU, Tang established internal organizing committees on topics such as LGBTQ inclusion, teacher diversity, restorative justice and immigrant rights, branding an "Unafraid Educators" campaign to create sanctuary schools that protect and serve students regardless of the way pupils self-identify, their abilities or their immigration statuses.
Tang says that in her current role, she has been working to foster more relationships with allies and stakeholders, build coalitions and grow a social justice movement. The active cross-sector collaboration also gives the BTU opportunities to show themselves as active part of the community and to fight anti-union narratives, which Tang says identifies among her goals.
"I think the union is oftentimes misunderstood," Tang said, stating that many people seem unaware of the power and purpose of unions to address social equity problems. "Unions have made important contributions to addressing social inequalities. When unions have the lowest participation, we have the largest income inequality."
Also high on Tang's list of goals is the unsigned contract between the teacher's union and the city, with negotiations entering their 16th month. Tang says the union is pushing for a contract that includes certain provisions around teaching conditions and serving high-need students.