The BTU is proud to be an official co-sponsor of the March for Our Lives. Please join our BTU contingent this Saturday.
We will have members participating in the march beginning at 11 AM from Madison Park, as well as at the rally beginning at 2 PM in Boston Common on the corner of Beacon and Charles Streets. Please RSVP using this form if you would like to join us!
Poster making will take place after our membership meeting on Wednesday and from 9-10:30 AM in Madison Park's Cardinal Hall on Saturday morning.
Please join us for a volunteer marshall training on Thursday, March 22 at the BTU from 5:30-7:30! (This is still happening despite the snow day.)
Here's the plan for Saturday:
9-10:30 AM: poster making, Madison Park, Cardinal Hall
10-11 AM: gather at Madison Park
11 AM: march leaves Madison Park
12 PM: Commons opens to the public
2 PM: rally at the Commons
Bus Information
Madison Park High is the Drop-Off for marching groups, and Boston Common is the pick-up and accessibility drop-off area. For more info on busss, email buses@marchforourlivesboston.com. We will have accessibility space and ASL interpreters! Bring water and snacks! Do not bring weapons, backpacks or signs with stakes or sticks. And finally, be good guests in the communities we are visitors in. Be respectful during the event and remain nonviolent.
---
For Those Traveling to DC
The DC AFT headquarters building will be open beginning at 7:30 AM. Find the office at 555 New Jersey Ave. NW, 20001. There will be coffee, hot chocolate. and refreshments there for marchers. You can also make a rally sign if you would like to, and walk over together to the March for our Lives.
Garret Virchick of the BTU will be in DC. Please reach out to him if you'd like to coordinate: 
gvirchick@btu.org
 or 617-872-0425.
---
In the wake of the tragic school shooting in which 17 children were murdered in Parkland, Florida on February 14, President Trump suggested arming teachers as a way to stop future massacres. BTU President Jessica Tang weighed in: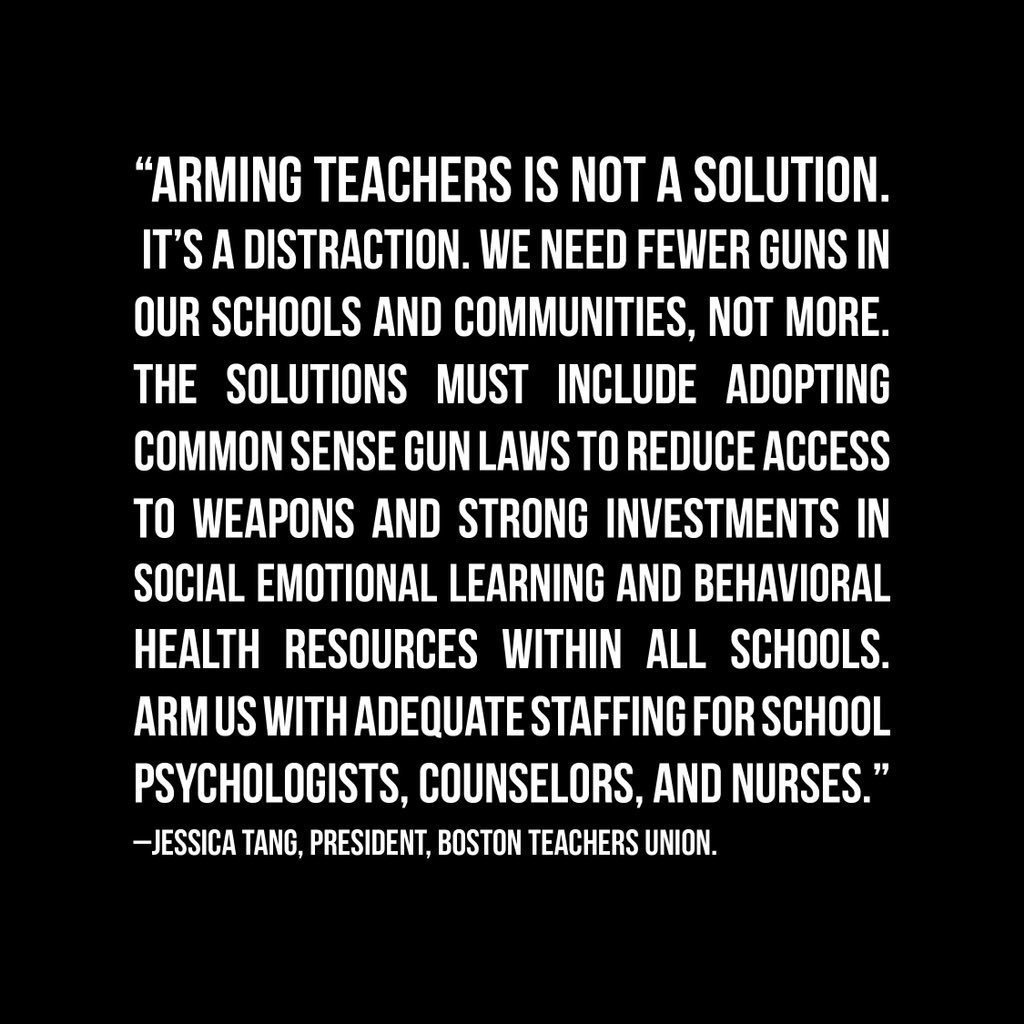 Educators around the country continue to speak out on social media using the #ArmMeWith hashtag.
President Tang said she does not know a single teacher who wants to carry a gun in school. She told the Boston Globe:
"That is not what we do as educators," she said. "Our expertise, our job, our skill set is around teaching and instruction and supporting students and motivating them and inspiring them. It should not be part of our job description to learn how to shoot a gun. That's what you do in the military, and that's what you do as a police officer."
Read the full article on the Boston Globe website.
We are mailing March for Our Lives stickers to all Building Reps the week of March 5 so that they can disseminate them for the upcoming actions.
See guidance and resources from BPS for the March 14 action. Please work with your administrators to develop school plans and activities. If you need to leave the school for an extended period of time, please use a personal day. BPS also sent a letter to families.
---
Resources
"Tips for Talking With and Helping Children and Youth Cope After a Disaster or Traumatic Event" from SAMHSA
SAMHSA, the Substance Abuse and Mental Health Services Administration, published a helpful guide for parents, caregivers, and teachers.
Helping Kids After a Shooting from the American School Counselor Association
The ASCA has compiled this list of webinars, suggested websites, documents, and publications for supporting children after a shooting. Their short list of recommendations are:
Try and keep routines as normal as possible. Kids gain security from the predictability of routine, including attending school.
Limit exposure to television and the news.
Be honest with kids and share with them as much information as they are developmentally able to handle.
Listen to kids' fears and concerns.
Reassure kids that the world is a good place to be, but that there are people who do bad things.
Parents and adults need to first deal with and assess their own responses to crisis and stress.
Rebuild and reaffirm attachments and relationships.
15 Tips for Talking with Children about School Violence from Colorín Colorado:
These suggestions for parents and educators provide guidance on how to talk about school violence, discuss events in the news, and help children feel safe in their environment. These resources were originally compiled following the school shooting at Sandy Hook Elementary School in Newtown, Connecticut.  The article has been updated as new resources are made available.
Helping Children Cope with Traumatic Events collection from Share My Lesson:
In the aftermath of recent cowardly acts of violence, the American Federation of Teachers' Share My Lesson has selected lesson plans, webinars and go-to guides for educators and the wider community to help grieving and fearful students cope in the days to come. Included in this collection are resources on Mass Shootings, Helping Students Express Their Feelings, Mental Health Resources, and When Hate is in the Headlines.
Guide to Talking with Students about the School Shooting from the New York Times.
Many educators weighed in with the New York Times for this compilation.