Community Events of Interest
NEW — Online Resource: Youth in Front
Over 100 volunteers created this new online resource, Youth in Front, for youth and adults seeking advice about youth activism. Please take a look and share!
Teachers See the Museum of Fine Arts for Free
Teachers in New England receive free admission to the MFA every day with proof of active teaching status in a K-12 school, afterschool, or community setting. Visit any MFA ticket desk and present your current school ID. Learn more. Come plan a class visit or enjoy the galleries on your own!
July Teacher Institute: Art and Inquiry for Global Learning
How does art engage our interest in world cultures and inspire us to ask new questions about complex topics? Explore these questions and more in a July 24-26 institute for K-7 teachers presented by the MFA and Primary Source. Consider artworks as texts that can illuminate the cultures that created them and provide accessible entry points for students. Learn more and reserve your spot now!
Testing Charade Author Speaks in Boston: March 22
Come hear Daniel Koretz, author of The Testing Charade: Pretending to Make Schools Better, on Thursday, March 22 at the Church on the Hill, 140 Bowdoin Street in Boston. Refreshments begin at 5:30, program from 6-8:30. Read more and register.
NEW — Summer Job Opportunity
SCS Noonan Scholars are hiring a Summer Academy Director, and they would love BPS teachers to apply. Read the job description.
New Teachers Retreat: July 13-15
Are you a teacher in your first three years? Join us at Keene State College for reflection, learning, and planning sessions as well as time to relax. Apply by April 2. Contact Ali atastewart@bostonpublicschools.org with questions.
NEW — Rett Syndrome: BTU Family Raising Money to Support Research
We received this message from Tracy Freeman, a 5th grade inclusion teacher at the Sumner: "My middle Son Aidan has a debilitating neurological disorder known as Rett Syndrome… This year Michael will be running the Boston Marathon to raise money and awareness." Can you help to fund research for a cure?
NEW — School Nurse & Teacher Running Marathon to Support the Mather
A message from Donna Airosus and Katie McCosker: "We are running the Boston Marathon this year which will be our first ever marathon… We are running in honor of Mather Elementary, where we both are employed….Our focus is to help fundraise towards money for field trips." Support their run online today, or join them on Saturday, March 24 at the Blarney Stone (1509 Dorchester Ave.) from 5-8 PM.
---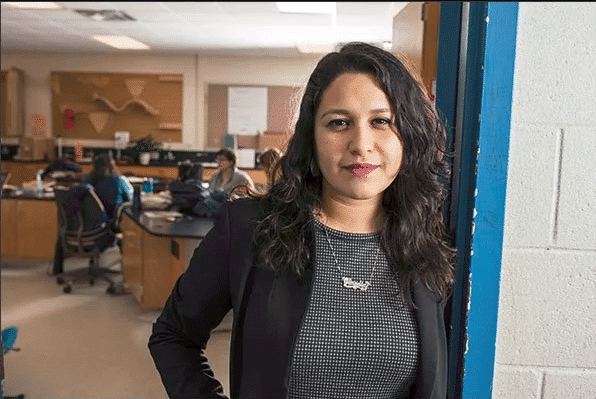 Spotlight on BTU Members
We're so proud of the work of the BTU Unafraid Educators, spotlighted recently in this Education Week article, "Teachers Rally Around Undocumented Students." The article features former committee chair and guidance counselor Claudia Martinez!
---
BTU Events & Committee Meetings
Meetings scheduled for today, March 13, including HUB Schools, the Inclusion Committee, and the Restorative Practices IEP Meetings Circle, are rescheduled unless you have heard otherwise.
NEW — SPED / Inclusion Meeting for Parents, Educators, and Community Members: Saturday, March 17
Please join us from 9:30 AM to 12 PM at the BTU (breakfast at 9!). We invite parents, educators, and community members for a meeting to organize around SPED and inclusion as a follow-up from our workshop at the BTU Parent Conference. Please RSVP and request childcare using this form.
NEW — Puerto Rican Educators Meeting: Monday, March 19
Please join Puerto Rican educators from 4:30-6:30 PM at the BTU to discuss ideas for supporting incoming families and students and other organizing efforts. Email fassiraj@btu.org to RSVP.
Haitian Educators Committee Meeting: Monday, March 19
Please join us from 4:30-6:30 at the BTU. RSVP by emailing jrodrigues@btu.org.
NEW — Unafraid Educators Meeting: Tuesday, March 20
Please join us from 4:30-6:30 PM at Fenway High School. To RSVP, email fassiraj@btu.org.
New History Standards Feedback Session: Tuesday, March 20
Please join us from 5-7 PM at the BTU. RSVP by emailing jrodrigues@btu.org. History and Social Studies Curriculum Frameworks changes feedback sessions: see more information and a full list of workshops.
Black Caucus Paint Night at the BTU Lounge: Friday, March 23
Please join us at 5:30. See the flyer and RSVP using this form.
NEW — Inclusion Meeting: Monday, March 26
Join us from 4:30-6:30 at the BTU. To RSVP, email jrodrigues@btu.org.
NEW — Restorative Justice Meeting: Monday, March 26
Please join us from 4:30-6:30 PM at the BTU. To RSVP, email fassiraj@btu.org.
Guidance Counselors Meeting: Tuesday, March 27
Please join us from 4:30-6:30 PM at BTU. Guidance Counselors deserve to have nationally recognized case load standards. We need more counselors in our schools to provide mental health services, restorative circles, and conflict resolution. RSVP with sltrotz@gmail.com.
NEW — Retirement Seminar: Thursday, March 29
Please join us at 4:30 PM at the BTU for a retirement seminar for teachers, paraprofessionals, and all other school personnel. Learn more about the seminar, and please RSVP. Please email mmclaughlin@btu.org with questions.