Applications for the BTU Committee on Political Education: Deadline is June 7
There are several committees and bodies that are appointed by the President and serve terms co-terminus with each newly-elected President. These will all be made available after the election. The Committee on Political Education (COPE committee), due to the timeline of endorsements and vacancies, will, however, need to be confirmed before the next membership meeting.
If you are interested in joining the BTU COPE Committee, the group that informs the BTU's political endorsements and programs, please apply here by Wednesday, June 7. The time commitment includes occasionally being released from school, monthly afternoon meetings, and occasional Saturday meetings.The new COPE Committee will be conducting interviews on Monday, June 12 so that recommendations can be made by the last membership meeting on the year on June 14. Please contact Jessica at jtang@btu.org with questions.
---
News from Peer Assistance and Peer Assistance & Review


Need some coaching and support? If you received a less-than-Proficient evaluation rating this year, you may be eligible for expert coaching and/or evaluation support from the PAR program. Visit bostonpar.org/about to find out more about PAR. Or go to bostonpar.org/enroll to set up an initial meeting.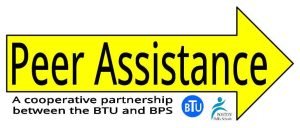 OR Sign up for a Peer Assistant: You may be eligible to receive confidential support, feedback and individualized coaching from the Peer Assistance program. PA is open to permanent teachers who are currently on a Directed Growth or Improvement Plan. Enroll in PA at My Learning Plan in the "Forms" section.
Artifact Lounge: Thanks to everyone who joined us this year for the Artifact Lounge and Lesson Planning Labs. We will be offering more sessions like this in the fall. Stay tuned for more information.
---
EDFS Lockout Period
To improve system performance, non-evaluators will not be able to login to EDFS from 6 PM on May 31 until 6 PM on June 1. As a result of this minor inconvenience, the BTU and BPS have agreed to extend the comment period from 5 to 10 school days for this year only.
---
End-of-Year Party
The end of year party will be held on Friday, June 9 from 3 to 8 PM.
---
BTU Director of Organizing Job Posting
The BTU will be hiring a new Director of Organizing. See the job description. If you are interested in applying, please send a letter of interest and resume to Jessica Tang at jtang@btu.org. The start date will be July 1. The preferred application deadline is June 1.
---
Teacher 2 Teacher Materials Swap!
Please join us on Friday, June 9 from 3-8 PM at the BTU End of Year Party! Are you retiring, cleaning out your classroom or have materials you no longer need? Are you looking for resources and materials for your classroom? Bring any materials you no longer need to the Materials Swap table OR stop by to pick up materials! Contact Jonathan if you can bring materials at jrodrigues@btu.org. See the flyers for more.
---
Retirement Parties
Retirement Party for Ms. Charlotte Burton, Mrs. Cheryl Alexander-Myers and Ms. Pamela Simpson at The Inn at Bay Point at 64 Washington Court, Quincy MA 02169 on Friday June 23 beginning at 3:30 PM. Checks ($45 pp) made payable to Nicole Hanley can be sent to her attention at the King K-8 School at 77 Lawrence Ave., Dorchester MA 02121.
Retirement Bash to honor Laureen Jones at the Randolph Lodge of Elks, 21 School Street in Randolph, 02368. $35 pp, includes buffet dinner and entertainment. Please send payments to Laureen Jones, 3 Christy Lane, Randolph, MA 02368, or deliver to Lorraine Tabb at the Condon School, 200 D St. South Boston. Call 617-635-8608 with questions.
Please join us for the retirement celebration of Dr. Judith Prince after nearly 50 years of service in BPS! The party will take place on Thursday, June 15 from 5-8 PM at The Golden Temple in Brookline. Tickets are $60 and include dinner and gift. Please make money order or checks payable to Maria Cordon and mail to Hennigan School, "Attn: Maria Cordon-Retirement Party," 200 Heath Street, Jamaica Plain 02130. Payment must be received by Monday, June 12. Please email them with any questions.
Please join us on Thursday, June 15 from 5:30-9 PM to celebrate the retirements of Richard Stutman, Patrick Connolly, Charles Johnson and Josefina Lascano! See here for more information and to register. If you have any questions please call our office at 617-288-2000.
Curley K-8 School End-of-the-Year and Retirement Party: Please reserve Friday, June 2 from 5-10 PM for the Curley Retirement Party. We'll celebrate at Florian Hall, 55 Hallet Street in Dorchester. Tickets are $45 per person. Join us for appetizers, a buffet, music, dancing, a cash bar, and celebrations! Email here with questions, or call the school at 617-635-8176.
Mary Linehan is retiring after 42 years of service. She has served 39 years at South Boston High and the remaining years at Boston Green Academy. The celebration will take place on June 16 at Florian Hall, 55 Hallet Street in Dorchester from 6 PM until 12 AM. The fee is $50. Please email Lauren Kelton or Jacqueline Sims for tickets.
There will be a retirement party for Adele Chiachio and Nancy Joyce of the Special Education Department June 16 at 5:30 PM at Common Market, 97 Willard Street in Quincy. The cost is $50, and your ticket includes dinner and a gift. Please make checks out to Roberta Skillin and send to the Bolling Building, 5th floor, Special Education, 2300 Washington St., Roxbury, MA 02119.
---
BTU Health & Wellness Fund Fun Run-Walk This Friday!
Please join us this Friday, June 2 at 4 PM! The Fun Run is open to teachers and to paraprofessionals covered by the BTU Health and Welfare Fund. The entry fee is $5.
There will be new t-shirts* for all who enter, along with and pizza and refreshments after the run/walk. Drop in or call the Fund Office at 617-288-0500, Monday through Friday, before 4 PM to request an entry application. Complete the application and submit it with your entry fee. See the flyer for more information.
*In the event that we run out of t-shirts in your size, we will order additional shirts for you to get after the event.
---
Charitable Opportunities
A message from Taylor Sabky, a math teacher at Boston International Newcomers Academy:
Just before Mothers Day, I learned the devastating news that my son Purnell has a rare and fatal genetic disease. There are currently no treatments available, but one promising gene therapy treatment is on the horizon; the scientists just need funding to bring it to trial in time for Purnell. My husband and I are asking the BTU to support our fundraising effort to save our son by: 1) Donating to our campaign, no amount is too small. All donations are tax deductible. 2) Sharing our page with their networks, using #SavePurnell. More information about Purnell's story and how to help can be found here on Facebook and on our GoFundMe page.
And this is from Stephanie Kudriashova from the Winthrop Elementary School:
Li-Fraumeni Syndrome (LFS) is a hereditary syndrome that greatly increases a person's risk of developing cancer over their lifetime. Because LFS is genetic, cancer risk can be passed on from generation to generation. Cancers related to this condition may occur at any age, but a characteristic feature of LFS is a high risk for childhood cancer.The LFS Foundation is hostong a funsraiser on Tuesday, June 13 from 5:30 to 9 PM at the Brahmin, 33 Stanhope Street in Boston. Purchase your ticket.
---
Employment Opportunity for BPS Teachers
The Project ALERTA Program at Umass Boston is currently looking for BPS licensed teachers to work in our summer program. The ALERTA program offers a great opportunity to strengthen and support the education of BPS Latino and ELL students in grades 3-5. Please email to let us know if you are interested, and learn more on the Project ALERTA website.