BTU-Specific Opportunities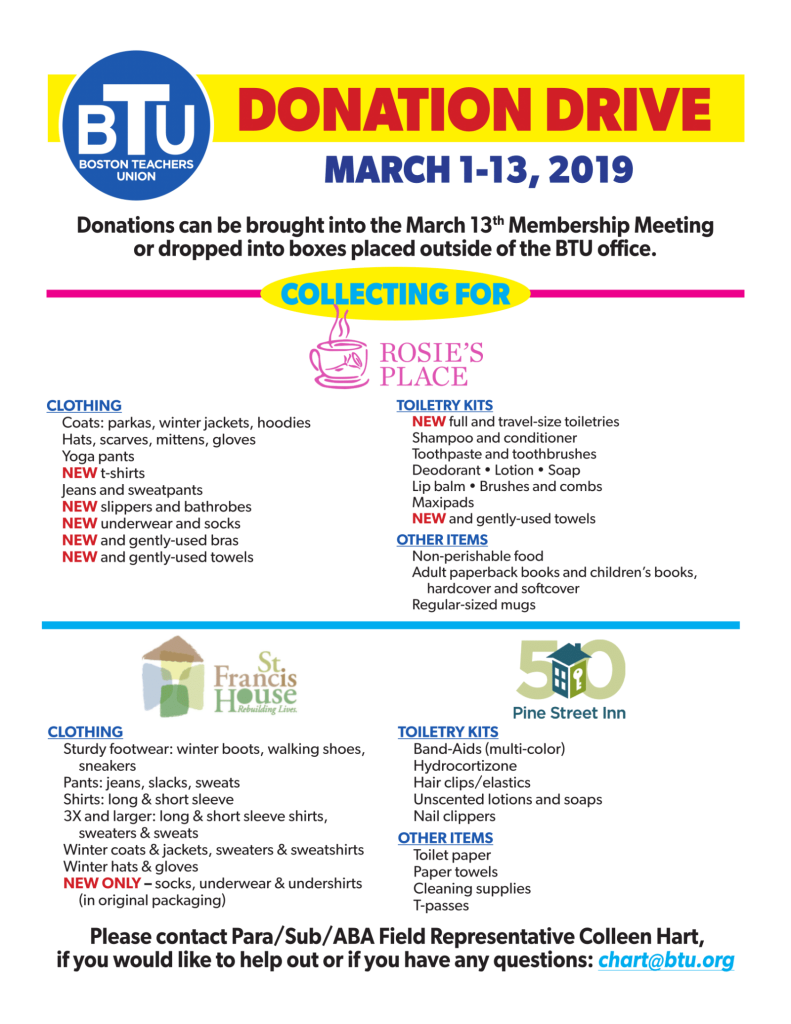 BTU Donation Drive: March 1-13
Ending student homelessness is a priority for the BTU, especially as many of our students and families face housing instability. As spring cleaning approaches, we hope you may consider donating to our clothing drive and needed items drive for three local shelters: Rosie's Place, St. Francis House and the Pine Street Inn. Please contact Para/Sub/ABA Field Rep Colleen Hart at chart@btu.org if you would like to help out or if you have any questions. See the flyer for more.
SMART Plan Meetings: March 6
Do you know if you're on the right track for retirement? The SMART 457(b) Plan offers tax-advantaged savings to help you build a more secure retirement. Our SMART Plan Advisor, Marianne Cole, will be holding SMART Plan meetings at the BTU on February 6 from 1:30-4 PM and on March 6 from 2-5:30 PM. Please RSVP to smart@empower-retirement.com. For those participating in the plan, she also offers Retirement Readiness meetings.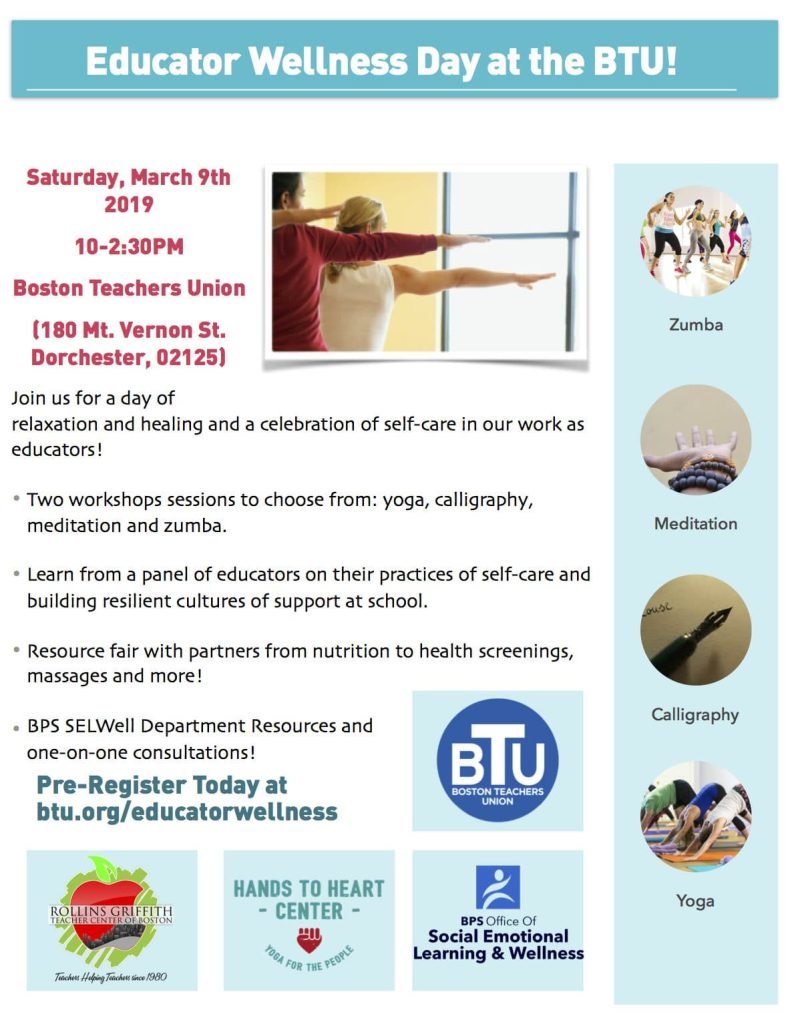 Educator Wellness Day at the BTU: March 9
Paras, subs, teachers — all are invited to join us for a day of relaxation and healing and a celebration of self-care in our work as educators! There will be workshops to choose from: yoga, calligraphy, meditation, and Zumba. Learn from a panel of educators on their practices of self-care and building resilient cultures of support at school. Breakfast and lunch included. Read more, download a flyer and register: btu.org/educatorwellness.
Seeking All Paras! We need your input!
The BTU Early Childhood Committee is interested in hosting a professional development for our paraprofessionals! Our hope is that we would get a group of paraprofessionals to attend the training who would then be interested in serving as trainers in their own schools or networks. In order to best meet the needs and interests of the early childhood paraprofessionals, we thought we would survey you all to find out what the best use of time and content would be. Paras, please fill out our Early Childhood Paraprofessional PD Interest Survey.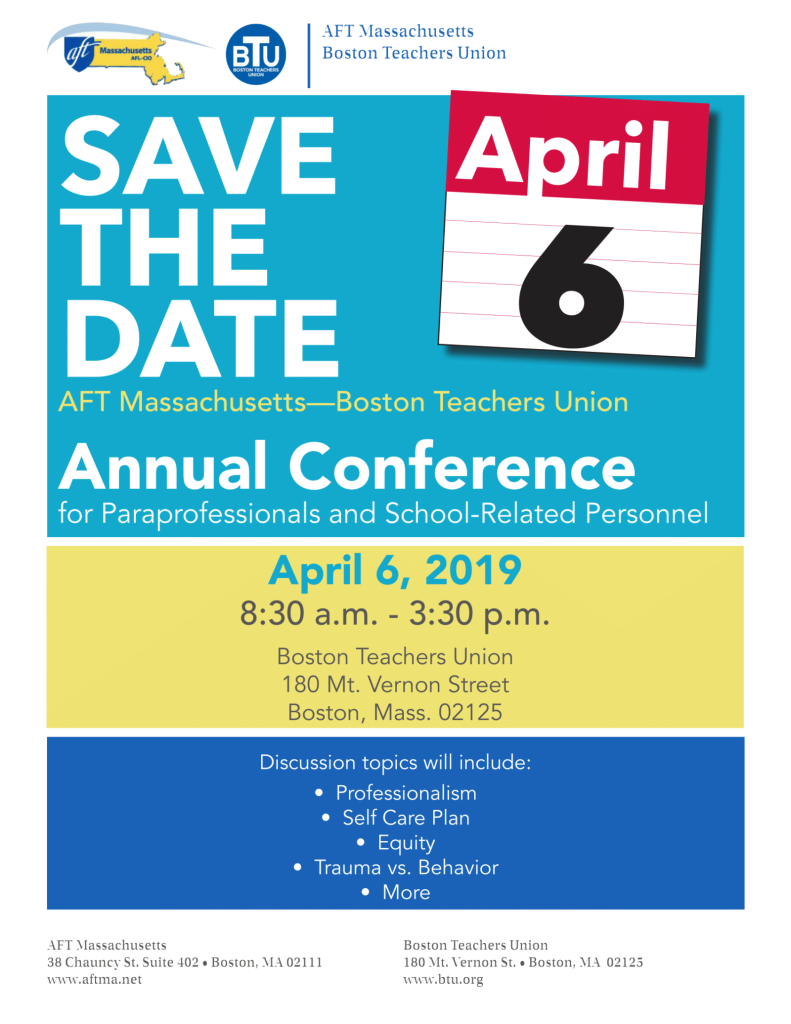 Save the Date for Annual Paraprofessional Conference: April 6
Join AFTMA and the BTU on Saturday, April 6! Discussion topics will include Professionalism, Self Care Plan, Equity, Trauma vs. Behavior and more. See and share the flyer!
HIRING — BTU Community Organizer
The BTU is seeking to hire a Community Organizer. Read the full job description and find out how to apply. BTU members are encouraged to apply.
---
Community Opportunities
NEW — Teachers See the MFA for Free
This February vacation week, take advantage of year-round free admission to the MFA for teachers in New England with proof of active teaching status in a K-12 school, afterschool, or community setting. Visit any MFA ticket desk and present your current school ID. Learn more. Come plan a class visit or enjoy the galleries on your own!
NEW — Apply Now for Grants to Support Social-Emotional Learning Innovation
Education First, in partnership with the NoVo Foundation, once again seeks applications for teacher-led and district-level projects that foster social and emotional skills in students in grades PK-12. Read more and apply.
NEW — Share Your Opinions on the Health of Boston!
A group of community organizations, health centers, hospitals, and the Boston Public Health Commission is gathering data to understand the health needs and strengths of Boston residents to plan for future services and programs. Complete this survey by February 28 to shape these efforts and enter to win an iPad.
FRIDAY — February Science Social: February 15
Please join us at Doyle's in JP this Friday from 3-7 PM (And yes, we are returning there again this year after the fun of our October Social…) Appetizers will be generously provided by the UMass Boston COSMIC (Center for Math and Science in Context) office. Doyle's Cafe is at 3484 Washington Street in Jamaica Plain. There is free parking behind building and on street, and it's close to bus and T.
Lynn Hall Teacher Action Research Prize: Applications Due February 25
The Yale School of Management Education Leadership Conference is now accepting applications for its annual Lynn Hall Teacher Action Research Prize. Winners will receive $3,000, $2,000 or $1,000. Applications are due February 25. Read more and apply.
Final Exam School Community Forum: February 28
Join the Lawyers Committee for Civil Rights, NAACP Boston and community partners for the final Exam School Forum at Roxbury Community College on February 28 from 6-8 PM. How can we encourage diversity in exam school admissions? See this Facebook post for more. Organizers will provide interpretation into Spanish and Portuguese.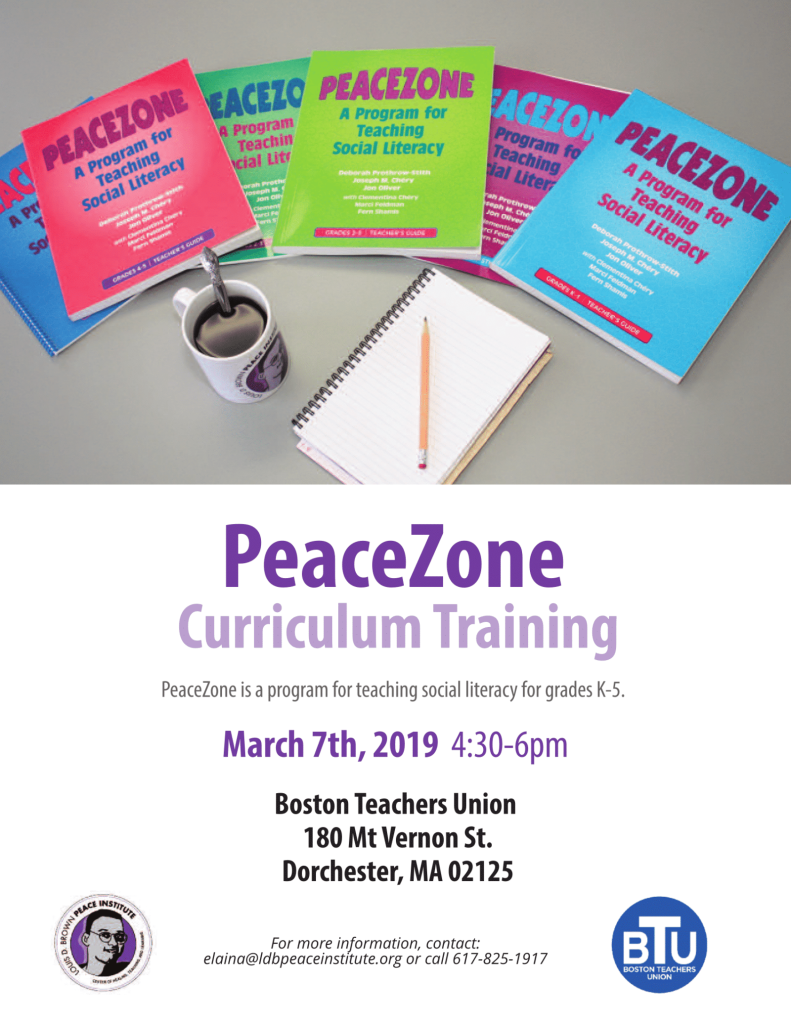 PeaceZone Curriculum Training: March 7
Join the Louis D. Brown Peace Institute at the BTU for a PeaceZone curriculum training on March 7 from 4:30-6 PM. See the flyer for more.
GRLZ Radio Hiring Youth for Spring Session: Apply by March 11
GRLZ Radio, a youth leadership and development program in Dorchester, is hiring teen girls ages 14 to 18 for the spring session beginning on March 18. The application deadline is March 11: grlzradio.org/apply. See the flyer for more.
NEW — Retirement Party for Barry "Coach Rob" Robinson: March 15
Please join us for a retirement party for Barry "Coach Rob" Robinson on Friday, March 15 at 6 PM at Venezia Restaurant. The cost is $65 and includes entertainment, dinner, and a gift. Please send checks to Maria Gonzalez-Baugh, 144 McBride Street, Jamaica Plain 02130 or call 617-592-6208.
NEW — Frida Kahlo and Graciela Iturbide: Saturday Teacher Workshop in Spanish and English at the MFA
On Saturday, March 30 from 1:30-4:30 PM, engage with exceptional works by two leading artists from Mexico, painter Frida Kahlo and photographer Graciela Iturbide. The workshop includes a curatorial lecture about Kahlo offered in both Spanish and English, gallery activities in both exhibitions, and group discussions. Tickets for the lecture in Spanish are still available online; to be added to the active waiting list for the lecture in English, email teacherresources@mfa.org.
APPLICATIONS DUE FRIDAY — BuildBPS Seeking High School Partner
BuildBPS is seeking a high school partner to work with members of the McCormack Middle School community to design a 7-12 high school. The selected partner school and the McCormack team, in collaboration with the district, will engage in a design process that will result in a new 7-12 learning community serving a diverse set of students that will inhabit the renovated McCormack building beginning in SY22-23 (projected opening date). See the application. Applications are due by February 15.
Nominate an Educator of the Year by March 4!
The City of Boston, Boston Public Schools, and the Boston Teachers Union are pleased to announce the 2019 Boston Educator of the Year Awards! The Educator of the Year award is the highest honor given to Boston Public Schools educators. EOY Awards recognize exemplary educators who go above and beyond to positively impact the lives of BPS students. All BPS educators (teachers, paras, librarians, other support staff) are eligible. Nominate an educator by March 4! Share the flyer with your colleagues, friends and networks. For additional information, email EOYBoston@bostonpublicschools.org.
---
Tax Information for Members
Dues for Your 2018 Taxes
Teachers: $1,374.36
Paras: $687.18
Subs: $687.18
ABAs: $893.36
We suggest consulting a tax professional for the latest updates on changes in tax law.