Don't forget to sign up for Flexible Spending! Annual Enrollment ends on November 30. Even if you participated last year, you must re-enroll, enrollment is not automatic.
Do you spend money on a regular basis for prescription drugs or to see a doctor? Do you wear contact lenses or glasses? Would it help to have money upfront to cover your medical and dental expenses?
If the answer is yes to any of these questions, you may be eligible to save money by enrolling in the Flexible Spending Health Care Account.
Grace Period: If you participated in Flexible Spending last year you have an additional 75 days (until March 15, 2018) to spend any money that may be left in medical accounts as of December 31, 2017. Not sure how to spend this money? Check out FSAstore.com/City-of-Boston.
Do you have a child in daycare, summer camp, or in a before or after school program?
If so, you may be eligible to save money by enrolling in the Flexible Spending Dependent Care Account.
Do you commute to work and pay for parking?
If so, you may be eligible to save money by enrolling in the Flexible Spending Transportation & Transit Account.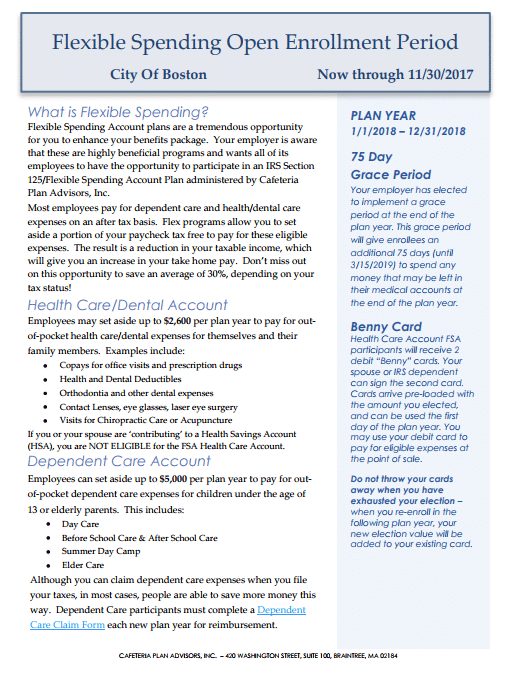 What is Flexible Spending?
Flexible Spending Account plans are a tremendous opportunity for you to enhance your benefits package. The City knows that these are highly beneficial programs and wants you to have the opportunity to participate in an IRS Section 125/Flexible Spending Account Plan administered by Cafeteria Plan Advisors, Inc (CPA, Inc). Most employees pay for expenses such as dependent care, medical and dental care on an after-tax basis. The FSA programs allow you to set aside a portion of your paycheck tax-free to pay for those expenses. The result is a reduction in your taxable income, which will give you an increase in your take-home pay. Don't miss out on this opportunity to save an average of 30% in taxes!
Read more about FSAs in this BTU FSA 2018 Notice.
If you still have questions, please call CPA, Inc. at 781-848-9848, or attend one remaining info session:
Thursday, November 9 from 2:30-4 PM: 1010 Mass Ave.
How do I enroll?
You can enroll during the annual enrollment period, which ends on Thursday, November 30. Current participants can renew online, and new enrollees can complete this enrollment form and submit it to CPA, Inc. via fax: 781-848-8477, or mail: CPA Inc, 420 Washington St, Suite 100, Braintree, MA 02184.
Further resources