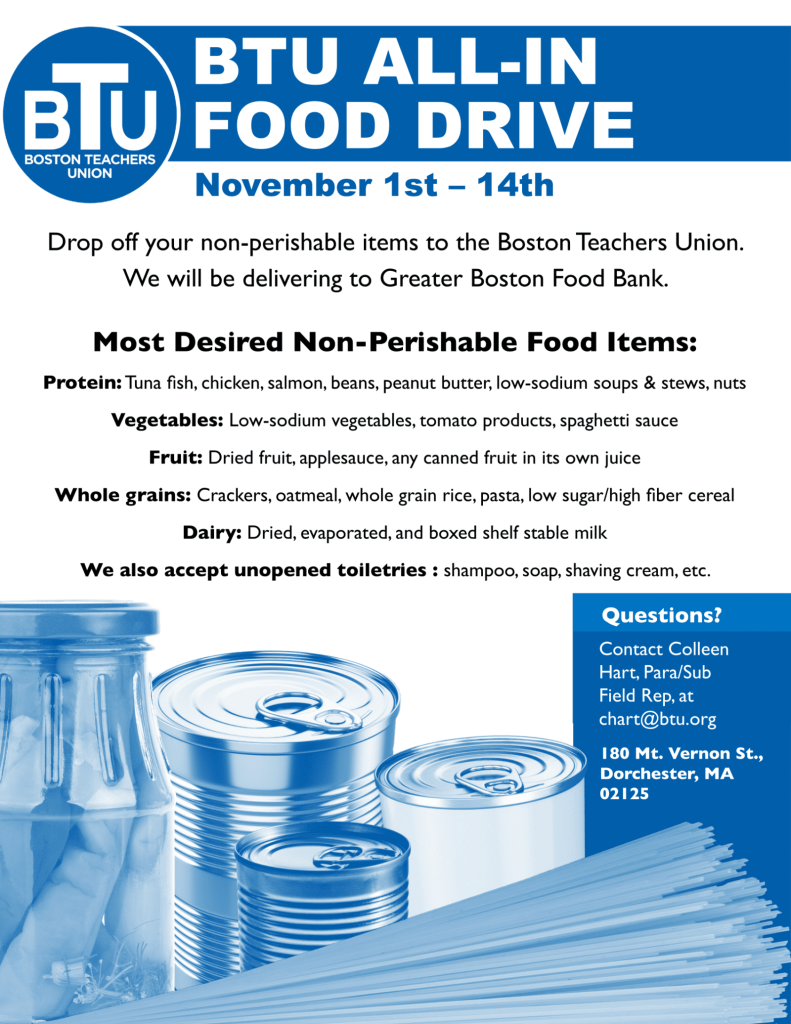 BTU All-In Food Drive: November 1-15
Please drop off your non-perishable items at the BTU beginning November 1. We will be delivering to the Greater Boston Food Bank. Download a flyer for posting.
STARTS THIS WEEK — Flex Spending Open Enrollment in November
Flex Spending Open Enrollment will be November 1-30. Info sessions are scheduled for November 1 at City Hall from 12-2 and 3-4 PM and on November 20 at Florian Hall from 3-6 PM. Read more about Flex Spending, which allows you to set aside a portion of your paycheck tax free to pay for expenses like dependent care, medical and dental care, and more.
NEW — Haley Pilot K-8 Pub Trivia Night: November 16
Come join the Haley Pilot School parents and teachers for a pub trivia night fundraiser on Friday, November 16. Tickets are $15, which includes a light dinner and a drink ticket. Community members and other BPS teachers are welcome. Bring a team! Join the fun!
NEW — Hollyhock Fellowship Program Accepting Applications
The Hollyhock Fellowship Program supports highly motivated, early-career high school teachers to persist and thrive in the classroom by providing them with rich learning opportunities with colleagues nationwide. Apply today.
All for Ang Memorial 5K on November 4
This event celebrates the life and work of Angela Iannalfo, the sister of BTU Pilot teacher RJ Schena and a former educator. Angela passed away unexpectedly leaving behind three children. Proceeds will benefit Haverhill Public Schools students. To register or donate, please visit allforang.com.
Sontag Prize in Education Accepting Applications
Teachers who are selected for the Sontag Prize are paired with 10-12 students to provide these students with fun, engaging lessons during the February and April breaks.Sontag honorariums begin at $3,000, and you receive a weekend of PD. Please contact info@sontagprize.org for more. Apply at sontagprize.org/apply.

Back to (Healthy & Sustainable) School
Check out the Top Ten List for Healthy and Sustainable Boston Public Schools. Includes tips and resources for green school leadership opportunities, recycling, green cleaners, sustainability curriculum, energy conservation, and more. For more info, contact Katherine at kwalsh4@bostonpublicschools.org.
BPS Green School Leadership Opportunities
Interested in leading your school's green efforts? BPS Healthy & Sustainable Schools is recruiting School Zero Waste and Energy Coordinators (volunteer roles) and committee members for the BPSZero Waste and Healthy School Environment Committees. Please fill out this interest form. For more info, contact Katherine at kwalsh4@bostonpublicschools.org.
Register Your School for The Green Team
Register your school for The Green Team, sponsored by MassDEP. Registration is free and quick. Green Team schools are eligible for resources, free recycling equipment, grants, prizes, and curriculum. Last year, 25 BPS schools registered, and the Lee and Alighieri were selected as grand prize winners. For more info, contact Katherine at kwalsh4@bostonpublicschools.org.