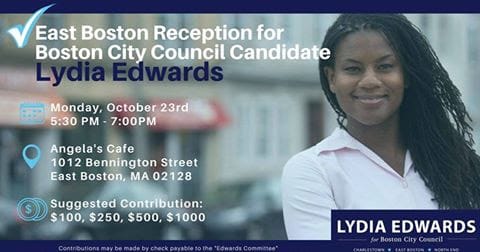 The BTU has endorsed the following candidates for Boston City Council:
District 1: Lydia Edwards
District 2: Ed Flynn
District 3: Frank Baker
District 5: Timothy McCarthy
District 6: Matt O'Malley
District 9: Mark Ciommo.
For City Councillor At-Large the BTU endorses Annissa Essaibi-George, Michael Flaherty, Ayanna Pressley, and Michelle Wu. The BTU has endorsed Paul Feeney for State Senate in the Bristol Norfolk district.
Please join BTU members at an East Boston Reception for Lydia Edwards on October 23. RSVP on Facebook. We will also do a "Stand Out" with Lydia on Saturday, November 4 at 10 AM. Please come out wearing your BTU shirt and let everyone know we are BTU All In: Building POWER for our Union and Schools! Please contact our Political Director Johnny McInnis at jmcinnis@btu.org if you can join the stand out Nov 4, if you would like more information or if you would like to volunteer with any of our endorsed candidates!
Fight for $15 and Paid Family Medical Leave
We're committed to helping in the fight to put $15 and Paid Family Medical Leave on the ballot next year. As members of the Mass Education Justice Alliance, we're joining in collecting ballot signatures on "MEJA weekends" across the state. Sign up for a shift in your local community! We'll also be giving each building rep signature papers for your school, don't forget to sign in your teachers' lounge! Questions? Please email Political Director Johnny McInnis at jmcinnis@btu.org.
Seeking Public Education Advocates! Boston School Committee
The application to apply to be a Boston School Committee member is now open! The Citizens Nominating Panel is now accepting applications for two positions, as the terms of Dr. Hardin Coleman and Michael Loconto will expire in January. The Boston School Committee is the governing body of the Boston Public Schools. The School Committee is responsible for defining the vision, mission, and goals of the Boston Public Schools; establishing and monitoring the annual operating budget; hiring, managing and evaluating the Superintendent; and setting and reviewing district policies and practices to support student achievement. Applicants must be Boston residents. Download the application. The deadline for applications is November 13, 5 PM. Questions? Email scnominatingpanel@boston.gov.