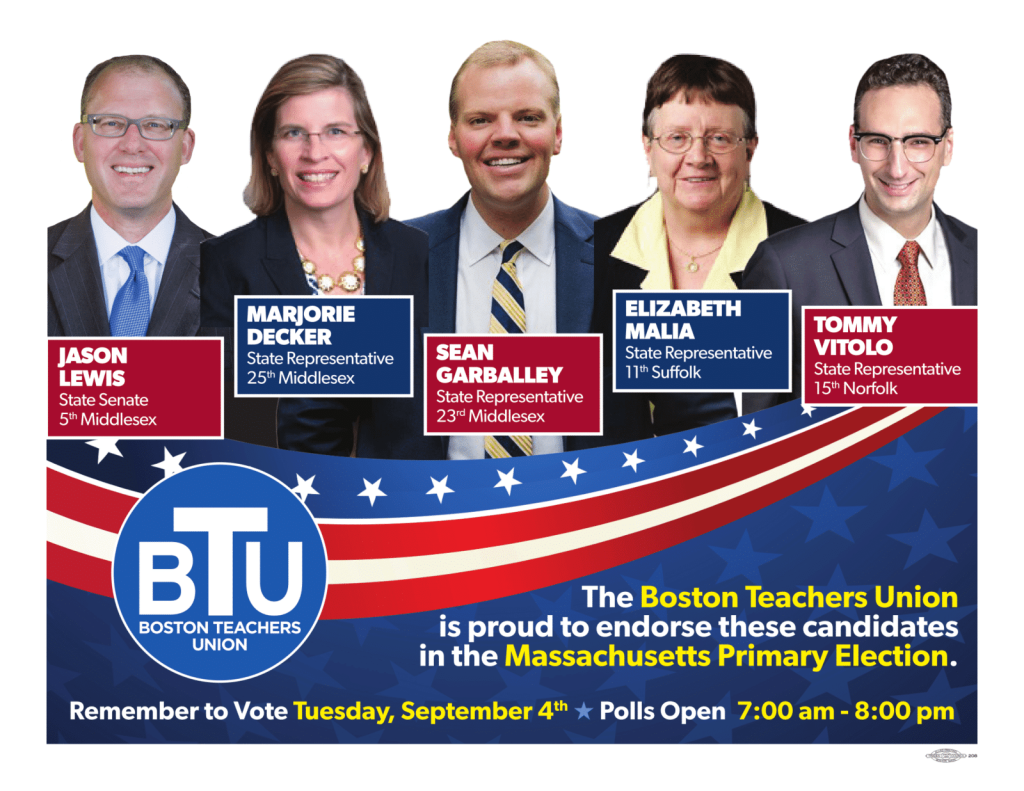 The Boston Teachers Union is proud to endorse these candidates in the Massachusetts Primary Election. These candidates have primaries on September 4:
Jason Lewis: State Senator, 5th Middlesex
Marjorie Decker: State Representative, 25th Middlesex
Sean Garballey: State Representative, 23rd Middlesex
Elizabeth Malia: State Representative, 11th Suffolk
Tommy Vitolo: State Representative, 15th Norfolk
These endorsed candidates have later primaries:
Julian Cyr: State Senate, Cape & Islands
Paul Feeney: State Senate, Bristol & Norfolk District
Patricia Jehlen: State Senate, 2nd Middlesex
Patrick O'Connor: Plymouth & Norfolk
Denise Provost: State Rep, 27th Middlesex
Thomas Stanley: State Rep, 9th Middlesex
Michael Brady: State Senator, 2nd Plymouth & Bristol
James Eldridge: State Senator, Middlesex & Worcester
Christine Barber: State Rep, 34th Middlesex
Michael Connolly: State Rep, 26th Middlesex
Michael Seamus Day: State Rep, 31st Middlesex
Remember to vote on Tuesday, September 4! Polls will be open from 7 am to 8 pm. Find out where you vote.