While the cit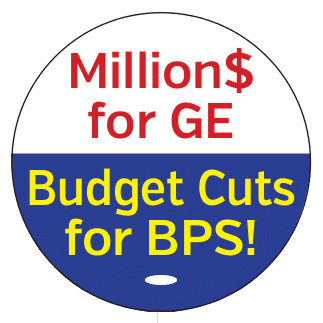 y's and state's business elite celebrated the recruitment of GE's headquarters to Boston last week at a taxpayer cost of $150 million, our schools continue to suffer severe budget cuts with no remedy in sight. See this Boston Globe report about the huge financial sacrifices the city and state took to lure GE here for the paltry sum of 800 jobs*, and see a WBUR report that reveals how hard one school, BCLA, has had to struggle (multiply that by 126!) to maintain its staffing level at level funding.
The city is offering GE property tax relief of $25 million spread out over 20 years. By the way, GE is a company that is well known for its tax avoidance skills.
The company reported (2011) worldwide profits of $14.2 billion, and said $5.1 billion of the total came from its operations in the United States.

Its American tax bill? None. In fact, GE claimed a tax benefit of $3.2 billion…
And the state is offering a host of amenities in infrastructure improvements as well as transportation relief. The state's contribution to the cause: $120 million.
The pitch book offers GE an array of additional benefits: a hangar at Hanscom Air Force Base 'to accommodate six airplanes for General Electric to fly to and from Logan International Airport,' assistance finding child care and schools, and the potential for 'General Electric signage on properties,' to help promote the GE brand. There's even the promise of a trolley tour of Boston, led by city employees… (see Globe report above)
So what about our schools? How are they faring under the proposed budget, which gets its resources from the city and to a much lesser extent, the state? See a letter from Dr. Chang:
When coupled with investments in core operations, past commitments and strategic priorities, we projected that the budget gap would rise to $40-$50M…

The impact of the reductions in school budgets will be felt widely across schools next year. Over 50 of our schools are receiving allocations that are likely to force a reduction in staff [emphasis added]. Preliminary estimates suggest that schools may reduce 100-150 staff; we will know more in the coming weeks. This excludes schools that will be making staff changes to adjust for changes in enrollment. In addition, 45 schools submitted requests for sustainability allocations because they felt unable to support basic needs and contractual obligations in their school with their initial allocation…
See more budgetary information: Here's a letter to parents from Dr. Chang, and here's an FAQ on the budget prepared by the school district.
(*) Will GE really make a difference to our economy? See this excellent analysis on GE's potential for job growth and added tax revenues.