The BTU has endorsed the following candidates for the Tuesday, September 1 Primary:
Congressional Non-Incumbent:
Robbie Goldstein, 8th Congressional District
Senate  Incumbents:
Senator Julian Cyr, Cape & Islands
Senator Patricia Jehlen, 2nd Middlesex
Senator Mike Brady, Plymouth and Bristol
Senator Marc Pacheco, First Plymouth & Bristol
Senator Patrick O'Connor, Plymouth and Norfolk 
Senator Nick Collins, 1st Suffolk 
House Incumbents:
State Representative Thomas Stanley, 9th Middlesex
State Representative Christine Barber, 34th Middlesex
State Representative Tommy Vitolo, 15th Norfolk
State Representative Liz Miranda, 5th Suffolk
State Representative Jon Santiago, 9th Suffolk
State Representative Nika Elugardo, 15th Suffolk  
Non-Incumbents for State Representative:
Erika Uyterhoeven, 27th Middlesex
Brandy Fluker-Oakley, 12th Suffolk
Rob Consalvo, 14th Suffolk
Joe Gravellese, 16th Suffolk
Jordan Meehan, 17th Suffolk
MOTIONS, ORDERS AND RESOLUTIONS FROM
Boston City COUNCIL MEETING:
Councilors Essaibi-George and Flynn offered the following: Order for a hearing regarding dyslexia services in Boston Public Schools.
Councilors Mejia, Janey and Campbell offered the following: Order for a hearing identifying restorative justice practices and the role of police in our schools.
AFT Election 2020 Campaign Notes
HEROES Act
The coronavirus has wreaked unprecedented havoc on the lives of the American people. Our economy, our schools, our jobs and our way of life have been disrupted. To survive and recover from this pandemic, safely reopen our schools, and allow people to safely return to work to restore our economy, we have to maintain critical state and local services, such as public safety, education and healthcare.
AFT activist members and our allies have been fighting for the federal government to fund our future, since the COVID-19 outbreak arrived in the U.S. Because of our activism, the House of Representatives has passed the HEROES Act, legislation to fund our localities, schools and public safety.
Now we need your help to encourage the Senate get the job done. Click here to send a letter to your Senators encouraging them to pass the HEROES Act.
Three pieces of the HEROES Act are critical to getting our states and communities through the next phase of the coronavirus pandemic and nationwide recession:
At least $100 billion for public K-12 education and public colleges and universitiesto safely reopen and account for the unanticipated, increased costs of operating schools in a COVID-19 environment. Reopening schools and colleges while keeping students and staff safe will take more, not fewer, resources.
$500 billion for state aid and $350 billion for local aid that funds the services to retain our EMTs, teachers and school workers, sanitation workers, home-care providers, and other frontline public service workers who are essential to fighting this pandemic and reopening our economy.
$175 billion for the health and safety of our frontline providers and the American people. We need widespread testing, contact tracing, adequate PPE supplies, relief for affected families, and expansion of Medicaid to ensure that vulnerable populations are treated to stop the spread of the virus.
Send a letter to your Senators to encourage them to pass the HEROES Act today.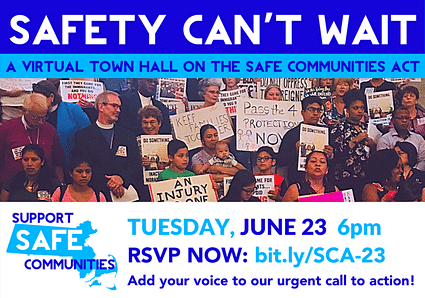 Dear Safe Communities Coalition members and allies:
Please join us on Tuesday, June 23 from 6 to 7pm for Safety Can't Wait: A Virtual Town Hall on the Safe Communities Act!
Stand with immigrant leaders from grassroots and faith communities calling for protection of immigrant rights and health, including Damaris Velasquez of Agencia ALPHA and Gladys Vega of Chelsea Collaborative, together with our lead sponsors Rep Miranda, Sen Eldridge, and Rep Balser!
More details to follow. In the meantime, share our Facebook Event, register at this link, and as always, please share widely! For organizations, please rebrand and resend!
With gratitude from the SCA Steering Committee