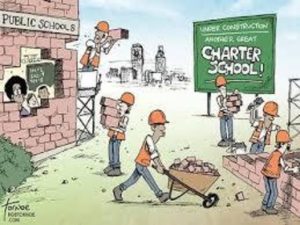 Here is a listing of all upcoming activities to get our the word on the No On 2 Campaign.
We have tabling activities, canvassing, visibility opportunities and more. See all activities. You will find an activity you'll like to do here.
There was a great piece in the Bay State Banner this week about out-of-state financiers taking, well, a special financial interest in the charter school ballot question in Mass.:
New York financiers are spending vast sums of money in an effort to convince Massachusetts parents that they need more charter schools. But some say there may be more than genuine concern for Massachusetts' education at play behind sizeable donations to the committees advocating for a yes vote on ballot question 2.

Charter expansion in Massachusetts appears to be part of a national movement, fueled, in part, by hedge funds, corporations and wealthy philanthropists…
And the Big Money keeps flowing in from New York State: Read more.