We hope everyone had a wonderful first full week of school last week. We got off to a great start at the BTU with a packed membership meeting! We were thrilled to welcome dozens of new Building Reps as well as new members and first-time meeting attendees while also honoring our Living the Legacy awardees from the AFT Women's Rights Committee.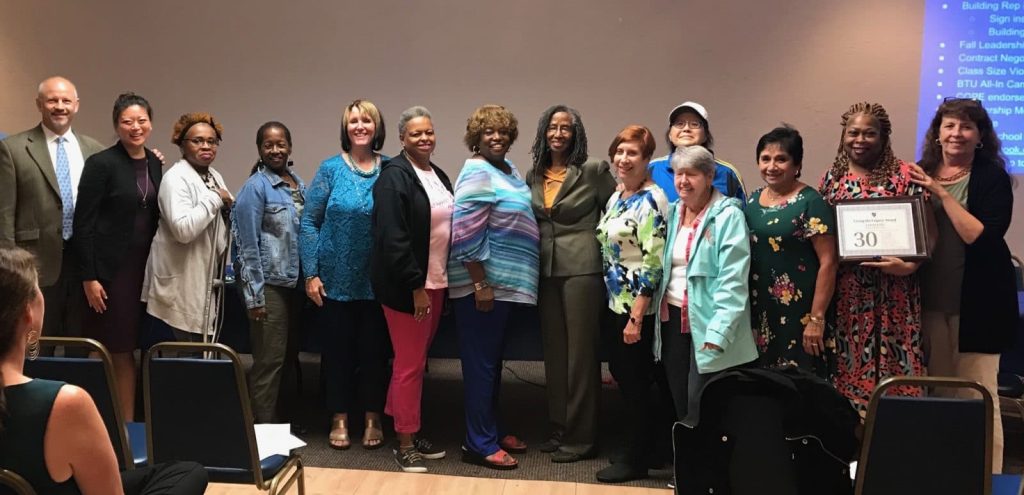 The Membership Meetings are always the second Wednesday of every month. Please save the date for the next one: Wednesday, October 10.
We will continue to share information about the status of negotiations, advocacy for full funding of our schools and other important district developments such as Build BPS as we advocate for an authentic, transparent and democratic process where stakeholders have the opportunity to review data, understand the goals, and give meaningful input that will actually be taken into consideration. We believe any and all proposals should keep equity, access and opportunities for highest needs students at the center of any potentially disruptive changes.
Many of our buildings are in desperate need of repair, renovation, and rebuilding, and a number of them are still from the 19th century. The BTU believes it is long past time to replace many of our aging and decrepit facilities. Our hope is that the process will also result in much-needed new school buildings with modern facilities including A/C and reliable heating!
This Saturday, we are proud to host our 5th Annual Back to School Fair at the BTU from 1-4 PM! The fair is open to all Boston public school families and BTU members. We are giving away 40,000 free K-12 books and there will be food, music, and resource tables from close to 50 community nonprofits. If you can volunteer to help sort the books this week or help out on the day of, please sign up here. BTU members must register for FirstBook to receive classroom sets. Please help us to spread the word! We have flyers available in eight different languages at btu.org/backtoschool.
Finally, please join in keeping those affected in the Merrimack Valley gas explosions in your thoughts and prayers — many affected are our fellow union sisters and brothers. AFT MA has set up a disaster relief fund for those most in need. Please consider making a donation to those directly impacted in Lawrence, Andover and North Andover.
Thank you and have a great week.