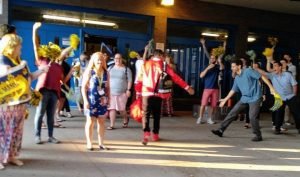 Welcome back to all of the Kindergarten classes starting today! Last week we were thrilled to see so many wonderful back to school activities and welcome events such as the Horace Mann School for the Deaf and Hard of Hearing (above) and the flash mob dance by educators at the Grew School.
It is clear that BTU members across the city went above and beyond to prepare for the new school year and welcome students back! This was all done despite oppressive temperatures in classrooms and schools. We will be taking a short survey on temperatures and facilities readiness at our membership meeting tomorrow. We hope you'll join us tomorrow beginning at 4:30!
Membership meetings are the second Wednesday of every month. See tomorrow's agenda. Please remember to bring your membership card for quick entry! If you did not receive your card yet, you can call the office at 617-288-2000 to check on your status or check online at members.btu.org. You can also sign a new application card online. Don't forget, we provide childcare, but advanced registration is highly encouraged to ensure a spot.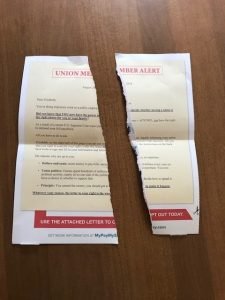 At the beginning of each year, we would like to remind everyone about class size overages. We ask that teachers do NOT sign a waiver until talking to a Field Rep or our Vice President Erik Berg first. We believe students deserve small class sizes and that adding students to an over-enrolled classroom, no matter additional pay, is not what is best for students, particularly students in SEI and special ed classrooms.
Here are a few other important deadlines to be aware of:
Please hold Building Rep elections for any open seats ASAP and submit results using this form on the BTU website.
In September: Teachers in Schedule A schools should complete their $200 supplies orders in their TFT group.
By October 1: Make sure PDP's from previous year have been recorded on My Learning Plan.
By October 15: School Site Council elections should be held.
By October 31: The first School Site Council meeting should be held.
Have a great first full week of school!