Professional Learning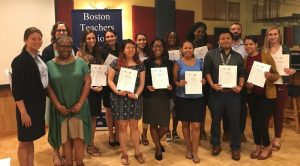 The Boston Teachers Union believes that successful professional learning that promotes and improves student learning and well-being requires that educators be recognized both as professionals and as learners.
BTU members have access to powerful professional learning opportunities where educators make innovations large and small that help them meet the needs of their students, schools, and communities while affirming professional identity.
We are also able to help members find the professional learning that meets their needs whether it be offered by the BTU, Boston Public Schools or other providers. Please subscribe to our Professional Learning Initiative Update Newsletter or email learning@btu.org for assistance. Read the BTU's Resolution on Professional Learning.
See additional Professional Learning resources:
Fellowship Opportunities
Coaching and Evaluation Supports