Across the country, young people have been leading campaigns to end gun violence and create safer schools.
May 22 update: We are deeply saddened by the Santa Fe, Texas school shooting this past week. We send our love and support to the families affected by the shooting and the entire Santa Fe community. We stand with March For Our Lives in calling for urgent action. This is the 22nd school shooting of 2018. Enough is Enough.
The local student-led chapter of March for Our Lives Boston is calling for 50 Miles More: March For Our Lives on June 27. Here is what they asked us to share:
On March 7, 1965, Martin Luther King, Jr., the Southern Christian Leadership Conference, the Student Nonviolent Coordinating Committee and thousands of others embarked on a 50 mile journey from Selma, Alabama to Montgomery, Alabama. The march was a protest to African American's limited access to voting due to unjust practices like literacy tests, poll taxes and pure violence.

Today, youth are still fighting for the prosperity of the African American community and communities of color. Gun violence disproportionately affects people of color. A black male is thirteen times more likely to die from a gun than his white counterpart, and a black female is three times more likely to die from a gun than her white counterpart.

It is clear that racial injustices are still present today. So on June 27, we hope to have 250 youth march from Worcester to Springfield to rally around gun manufacturer Smith & Wesson. This action is called 50 Miles More: Mass, a joint initiative between March For Our Lives: Boston, Stop Handgun Violence, and more.
The student organizers have three requests of our members:
A call for adult volunteers: sign up here
A call for teachers or students who might be interested in attending (pre-registration is intended to ensure high representation of students of color: sign up here)
A call for any students or adults interested in helping plan the march: sign up here
We are proud to support their efforts and all efforts to pass gun reform legislation and resources to support comprehensive social emotional supports for families and students in schools. We do not accept gun violence in our schools or communities as the "new normal." We will continue to use our collective voice and collective action as union members to advocate for safe and welcoming schools with the full resources and supports our students deserve.
---
In the early spring here in Boston, high school students organized a massive turnout for the March 24 March for Our Lives, held on the one-month anniversary of the tragic Parkland school shooting. The BTU was proud to be a sponsor of the march and rally.
On the day of the march and rally, Boston Latin Academy student Vikiana Petit-homme, a leader of March for our Lives Boston, published an op-ed in the Boston Herald:
Following the Parkland tragedy, students across the country joined to create a gun-reform movement. Gun violence, sadly, has existed far longer and people have been protesting for years, especially communities of color.

Now that we, as youth, have national attention and people are listening to us, it is imperative that we lift the voices of the people that have been left behind. I march today to represent those who are not alive to speak for themselves. I march for my classmates. I march for my little cousins. I march for my life.
See Vikiana's full op-ed on the Boston Herald website.
---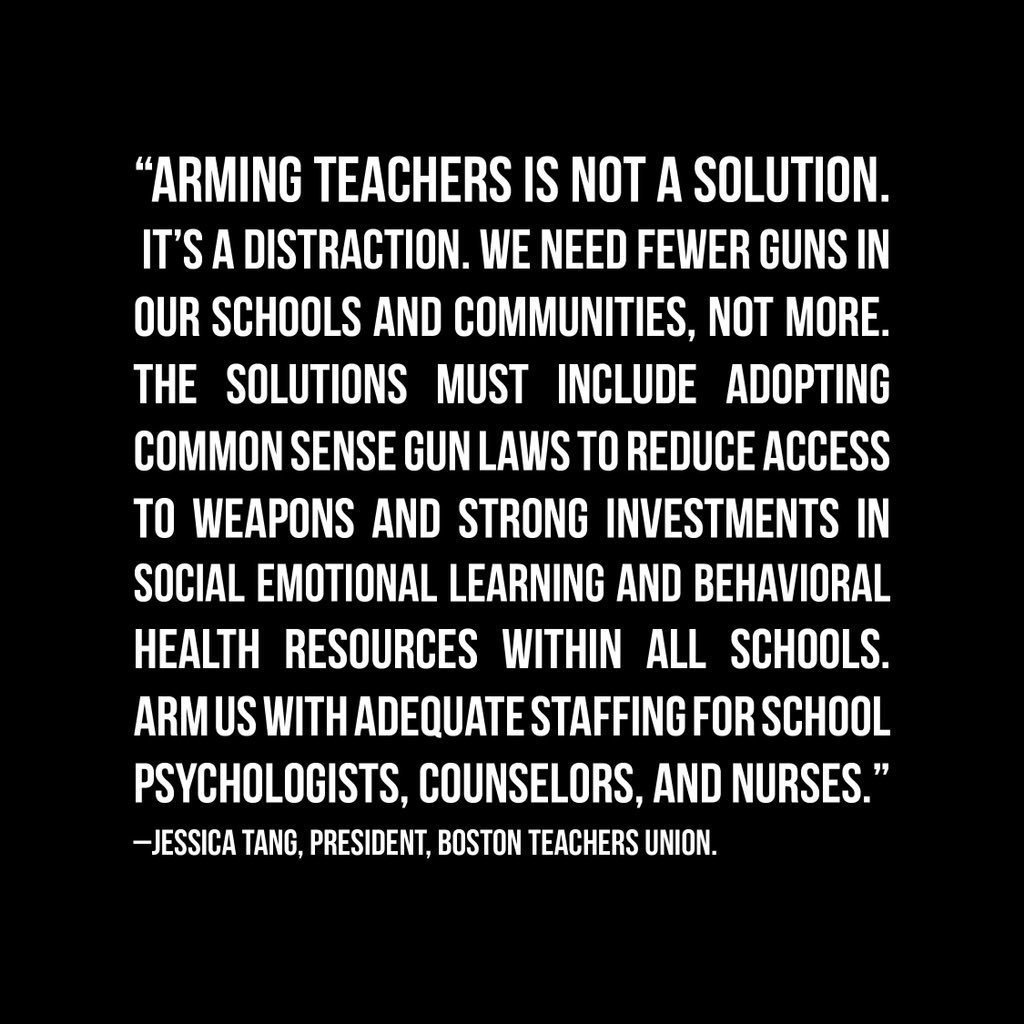 Educators around the country continue to speak out on social media using the #ArmMeWith hashtag.
President Tang said she does not know a single teacher who wants to carry a gun in school. She told the Boston Globe:
"That is not what we do as educators," she said. "Our expertise, our job, our skill set is around teaching and instruction and supporting students and motivating them and inspiring them. It should not be part of our job description to learn how to shoot a gun. That's what you do in the military, and that's what you do as a police officer."
Read the full article on the Boston Globe website.
---
Classroom Resources
"Tips for Talking With and Helping Children and Youth Cope After a Disaster or Traumatic Event" from SAMHSA
SAMHSA, the Substance Abuse and Mental Health Services Administration, published a helpful guide for parents, caregivers, and teachers.
Helping Kids After a Shooting from the American School Counselor Association
The ASCA has compiled this list of webinars, suggested websites, documents, and publications for supporting children after a shooting. Their short list of recommendations are:
Try and keep routines as normal as possible. Kids gain security from the predictability of routine, including attending school.
Limit exposure to television and the news.
Be honest with kids and share with them as much information as they are developmentally able to handle.
Listen to kids' fears and concerns.
Reassure kids that the world is a good place to be, but that there are people who do bad things.
Parents and adults need to first deal with and assess their own responses to crisis and stress.
Rebuild and reaffirm attachments and relationships.
15 Tips for Talking with Children about School Violence from Colorín Colorado:
These suggestions for parents and educators provide guidance on how to talk about school violence, discuss events in the news, and help children feel safe in their environment. These resources were originally compiled following the school shooting at Sandy Hook Elementary School in Newtown, Connecticut.  The article has been updated as new resources are made available.
Helping Children Cope with Traumatic Events collection from Share My Lesson:
In the aftermath of recent cowardly acts of violence, the American Federation of Teachers' Share My Lesson has selected lesson plans, webinars and go-to guides for educators and the wider community to help grieving and fearful students cope in the days to come. Included in this collection are resources on Mass Shootings, Helping Students Express Their Feelings, Mental Health Resources, and When Hate is in the Headlines.
Guide to Talking with Students about the School Shooting from the New York Times.
Many educators weighed in with the New York Times for this compilation.