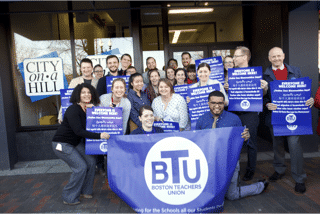 Last year staff at City on a Hill voted to join the Boston Teachers Union! Now, we are negotiating for the contract that #StudentsDeserve.
We know that improving the working conditions for staff will help us better serve our students and their communities. We want to increase teachers retention at CoaH so students and their families have stability and a community of teachers and staff with strong relationships. It is essential to have transparency, predictability, and pay equity, so that staff feel secure and can focus on supporting students.
We ask students, parents, and community partners to add their name to this petition to express support for the educators and staff of CoaH in our efforts to negotiate a fair contract for the schools and contract #StudentsDeserve.
View our advertisements
En español