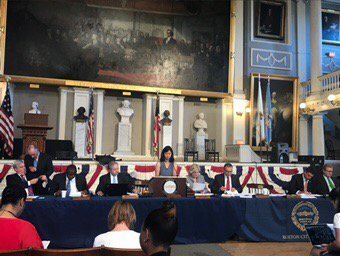 We hope everyone had an enjoyable long weekend! Before the break, BTU officers and staff visited a dozen or so schools as we continued our Listening Tour. While it has been inspiring to hear about all the great work our members are doing in our schools, we have also heard consistent concerns about issues we can address in the next round of negotiations for our contract.
At our Membership Meeting this evening, we will be sharing a draft of our new survey as well. We hope to have the electronic version available at our BTU Leadership Conference this weekend! Thank you to everyone who has registered. We have a record number of participants, and we look forward to seeing you there!
Many members had questions about the timeline for implementation of the new contract. Now that the City Council has approved of appropriations, the district and city are working on financial implementation. It is likely that raises will be in effect by the end of this calendar year and that retroactive pay is likely to be early in the following calendar year. BTU leaders are meeting with BPS representatives to discuss the implementation of other provisions of the new contract as well, and we will share more updates as they become available.
Lastly, BPS has been compiling resources for supporting incoming students from Puerto Rico. See the BPS Cares list of resources for more information and the BPS letter to students in English and in Spanish. We will have a guest speaker at our membership meeting tonight to share steps the city is taking to support and prepare for families coming to Boston as well as our own members here supporting those families. We will also have a presentation on Breakfast in Schools and discuss the implementation of ELT. See the full agenda. Hope to see you there this evening!