For Immediate Release:
Thursday, September 23, 2021 
Boston Teachers Union promotes priorities for upcoming contract discussions with Boston Public Schools
At press conference, parents, educators and students tout proposals centered on achieving equity and informed by robust public input process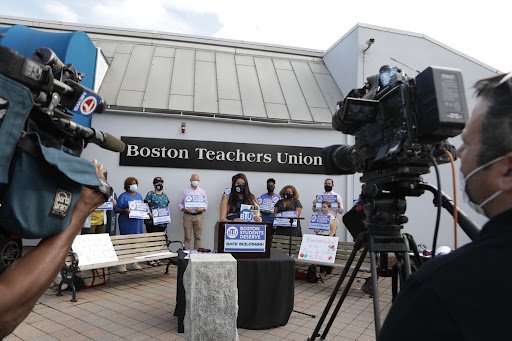 BOSTON — The Boston Teachers Union held a press conference on Thursday to announce their priorities for their upcoming contract discussions with Boston Public Schools. The current iteration of the contract expired on August 31.
Joined by rank-and-file member educators, parents, students and community allies, President Jessica Tang discussed the nineteen proposals, which are centered on equity and were informed by a public input process. The union held several public forums to gather feedback from thousands of families, educators, and community members.
"We have a chance now to ensure our public schools are ready for whatever comes next – and that the necessary resources are being provided to students and educators to create the schools our students deserve, and the best learning experience possible," said BTU President Jessica Tang.
Several member educators from schools across the city also spoke at the conference to share their perspectives from the classroom. The speakers detailed several key issues the district faces which must be addressed in any new contract.
"We didn't just send students to go remote — we actually went with them. We were zooming into families' homes. This was a different level of seeing their struggles, of hearing their fears, and again of seeing the inequality," said Mary Dibinga, high school English teacher at Boston Latin Academy. "We learned in this pandemic that students who are traumatized cannot learn. We must take that knowledge with us into the future of what the Boston Public Schools can be." 
"Our students deserve to return to schools that value their social and emotional health and that prioritize diversity and inclusion in the classroom," said 2nd grade teacher and BTU negotiating team member Anne Brochu.
The conference followed a separate tentative agreement (TA) on health and safety plans reached prior to the first day of school on September 9. 
"The pandemic underscored both the importance of modern facilities, as well as the inadequacies of our buildings as a result of decades of deferred maintenance," said Excel High School senior Thy Nguyen. "My fellow friends and I deserve a bright, beautiful, clean, safe, well-maintained and rodent free building."
Once finalized, the new contract will cover over 8,000 active teachers and other professionals who work in the Boston Public School system, including school nurses, psychologists, guidance counselors, paraprofessionals, applied behavior analysis, therapists and substitute teachers.
####
About the Boston Teachers Union
The Boston Teachers Union proudly represents more than 10,000 teachers and other professionals including school nurses, psychologists, guidance counselors, paraprofessionals, and substitute teachers. Together, we advocate for the interests of students, parents and education professionals throughout Boston. We support investment in public education to ensure a stronger future for our students and our city. As a union of educators, we are part of a movement that seeks to improve the quality of life for all working people. We are united against all forms of prejudice and bigotry that would seek to devalue the lives or liberties of our students, families or colleagues.