TOMORROW — First Membership Meeting of the Year: September 12
Please plan to join us tomorrow beginning at 4:30 for our first membership meeting of the year. Our guest will be Interim Superintendent Laura Perille.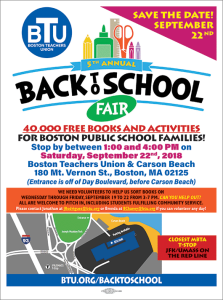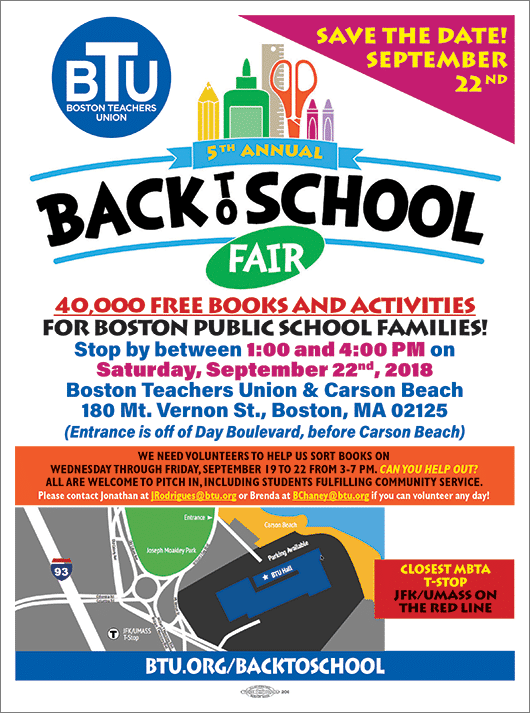 Back to School Fair and First Book: Saturday, September 22
Sign up for First Book at firstbook.org/aft. Signing up is free and gives you access to free and discounted books as well as other classroom supplies and needs. Signing up new members also helps us to give away over 50,000 books at our annual Back to School Fair! Save the date and plan to join us on September 22! Questions? Want to volunteer for the fair?  Sign up here. For questions, please contact Brenda at bchaney@btu.org
Planning Meeting for Digitizing Day: September 20
If you are interested in helping to plan or learn more about the BTU History Archives Project's Digitizing Day scheduled for Saturday, November 17 from 10-3 at the BTU hall, please contact Betsy Drinan at bdrinan@btu.org or Natalia Cuadra-Saez at ncuadrasaez@btu.org and please plan to join us for a planning meeting on Thursday, September 20 at 4 PM at the BTU. See our flyer for more. All are welcome.
NEW — BTU Fall Leadership Conference: October 12-14
Please join us from Friday, October 12 through Sunday, October 14 at the Dedham Hilton! RSVP on the BTU website today. Our Friday evening film screening and Saturday workshops are open to all members with advanced registration. The conference will feature various workshops, guest speakers, and panels. Download a flyer.
---
Community Events & Opportunities
NEW — Un Año Después María: Marching and Healing on September 20
One year after Hurricane Maria devastated Puerto Rico, too many families still lack electricity and hundreds of schools are closed. More details, RSVP and share.
NEW — House Party for Massachusetts Communities Action Network
You are invited to enjoy refreshments, good conversation and organizing for change at a house party for the Mass Communities Action Network on Sunday, September 30 from 4-6 PM. MCAN is a powerful statewide community organizing network working towards racial and economic justice both locally in cities across MA. Read more and RSVP.
NEW — Does Your School Need Volunteers in October?
Do you have a project in mind where you need volunteer help? On October 17 and 18, about 2,000 volunteers through Tech Gives Back will give their time at various venues. For more information, see the Tech Gives Back website or contact Ayele Shakur atashakur@build.org.
NEW — Youth on Board Book Event: October 1
Please join Youth on Board on October 1 from 6:30-8:30 at the Copley Library for an event celebrating the publication of their new book, Lift Us Up, Don't Push Us Out! Voices from the Front Lines of the Educational Justice Movement. See the Lift Us Up website, and stay tuned for more event details.
NEW — Join the Peace Flag Mural on the Common: October 20
All school children of the greater Boston area are invited to join Children's Services of Roxbury and their Peace of Mind campaign as they attempt to create the largest peace Flag Mural the world has ever seen! Learn more in their flyer.
NEW — GRLZ Radio Hiring for the Fall
The GRLZ Radio Fall session is approaching! GRLZ Radio is a Dorchester youth leadership program which hires teen girls for positions at their online radio station, blog and social media/YouTube channel. Read more. The deadline is October 22:grlzradio.org/apply.
Free MIT Program for HS Students: Deadline this Week
Amphibious Achievement is a unique cost-free program based out of MIT designed for high school students. Apply by September 15: amphibious.mit.edu/high-school-application. Contact Franie at fcph@mit.edu.
Grant Applications Open for Safe and Supportive Schools: Deadline
The Massachusetts DESE announced that the Fiscal Year 2019 Safe and Supportive Schools Grant Program is now accepting proposals for the 2018-19 school year. The application and more information about the grants is available on DESE's website. All applications are due by 5 PM on Thursday, September 20.
Support Retired Teacher Bob Marshall after Devastating House Fire
On August 16, Bob and Brenda Marshall's Roxbury home caught fire as a result of a neighbor's own home fire. Please support them as you are able.