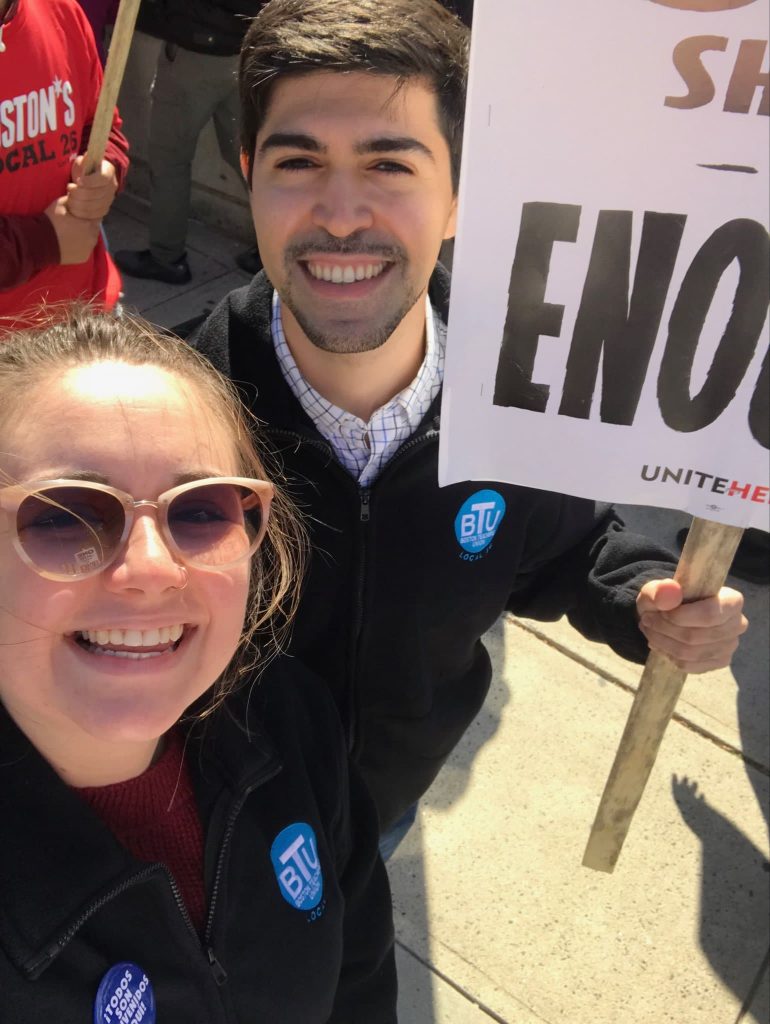 BTU members have been marching in solidarity with striking UNITE HERE Marriott workers this past week. We stand with them to say, "One job should be enough!" For more, check out these hashtags: #1job and #MarriottStrike.
Join our BTU-Activist list by emailing Jonathan at jrodrigues@btu.org to get the latest updates or contact Liliana at lgutmann@btu.org for questions on how to support.
Upcoming BTU Events & Committee Meetings
TODAY — Membership Meeting & Flu Clinic
Please join us at the BTU this afternoon. The membership meeting begins at 4:30. The Flu Clinic opens at 3:30 PM and runs until 6:30. Thanks to PK Egersheim for sharing this great idea with us and for being our in-house DJ at the start of our meetings!
SATURDAY — BTU Welcome Back Party and Breast Cancer Fundraiser: October 13
Please join us on Saturday, October 13 from 7-11 PM at the Dedham Hilton (25 Allied Drive in Dedham). Come celebrate the new school year with your fellow union members! All BTU members and guests (21+) are invited to attend. See the flyer. Pink attire optional!
Fall Leadership Conference: October 12-14
Please join us this weekend for the BTU Fall Leadership Conference at the Dedham Hilton! Commuters are welcome to join. Register and see the agenda: btu.org/brconference. Questions? Email Natalia at ncuadrasaez@btu.org.
NEW — Election Committee Meeting: Tuesday, October 16
The Election Committee wishes to remind all active and retired members that 2018-19 is a BTU election year. There will be an election for all union offices in the spring. All meetings of the committee are open to observers, and each meeting will include a period set aside for member questions. You may access meeting minutes by signing into the BTU Member Portal at members.btu.org. All meetings will be at the BTU at 5 PM. Our next meetings will be October 16 and November 13. See a full list.
Equity Committees Meeting: Thursday, October 18
Please join us at the BTU from 4:30-6:30. Our Equity Committees include: Unafraid Educators, Puerto Rican Educators, Haitian Educators, LGBTQ Committee, and the Committee on Teachers in SPC Roles. We will meet throughout the year on the THIRD Tuesdays of the month (special exception this month). Email Natalia at ncuadrasaez@btu.org to learn more and to RSVP.
NEW — Puerto Rico: Disaster, Recovery, Resistance: October 20
Join us on October 20 at 1:30 PM at the BTU to hear from Gilberto Diaz of Puerto Rico. Gilberto will talk about the recovery effort, the organizing, and the need for support. Discussion and questions will follow. Donations would be appreciated. For more info, contact Heidi Winston at heidicwinston@gmail.com.
Education Town Hall with Councilor Essaibi-George: October 23
This fall City Councilor Annissa Essaibi-George is holding a series of Town Halls across the city. Please plan to join us for a special Town Hall for Educators with the Councilor at the BTU on October 23. Contact Johnny McInnis with questions at jmcinnis@btu.org.
Ethnic Studies Now Meeting: Sunday, November 4
Join a group of BPS educators working to bring Ethnic Studies curricula to BPS. Our next meeting will take place on Sunday, November 4 from 2-4 PM. To learn more and RSVP please contact Natalia at ncuadrasaez@btu.org.
NEW — Teacher-Powered Schools National Conference in Boston
The 2018 Teacher-Powered Schools National Conference will be held this year in Boston from November 30 to December 2. The BTU is proud to be a co-sponsor and is excited to bring this national event to the east coast and connect with teams using collaborative leadership and shared decision-making structures. The conference is led by practitioners nationwide who reimagine teaching and leading. These teacher-powered teams use their autonomies and collaborative practices to create student-centered learning environments and improve schooling for students and teachers. Register today on Eventbrite!
---
Community Events
NEW — Activating the Massachusetts Electorate: October 22
Join the Edward M. Kennedy Institute this Monday at 6:30 PM for a free event about how we can activate and expand the Massachusetts electorate. Learn more and register.
Join the Peace Flag Mural on the Common: October 20
All school children are invited to join Children's Services of Roxbury as they attempt to create the largest peace Flag Mural ever! Learn more