Last week was unusually busy. We met with our new Collective Bargaining Committee and held our second annual Back-to-School Fair, and the Boston charters, the archdiocese, the city, and the school district, which dragged along its principals, convened akumbaya party to discuss how to ease the way for the city to have one big school assignment process. The school district strongly forced its principals to attend this gala celebration (some complained privately) with a sit-down dinner. The BTU was not invited, and we certainly understand why. More on that later.
We held our first Collective Bargaining Committee meeting of this season last week. More than 50 members from all departments and positions attended the meeting. A series of subcommittees have been set up to discuss compensation, teacher assignments, paras, professional issues, substitutes, itinerant groups, and school climate issues over then next few months. Please take the time, if you wish,to submit an item (or items) of interest to you or your group. Items are due by October 15. All items will be carefully discussed by our subcommittees. Thank you.
The Second Annual Back to School Fair was held Saturday, and wow, what a day! More than 1,500 parents, students, community members, teachers, paras and volunteers attended this glorious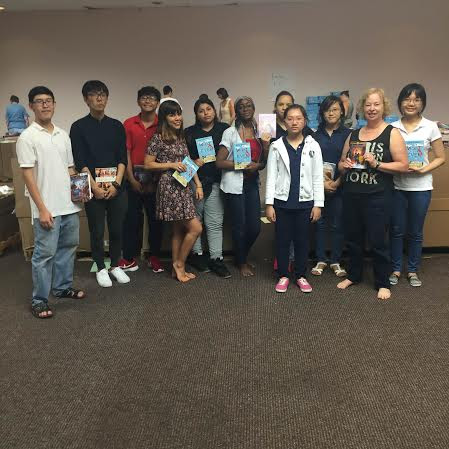 Teachers and students from Excel High School help sort 40,000 books for distribution.
Photo by Ivana Perez-Redondo
event. Two hundred BTU members, retirees, and students from Excel High and BLA, along with their teachers, donated time organizing the 40,000 (!) books that were given  away on Saturday.
There were lots of resources for parents and students offered, including face painting, arts and crafts, facilitated games and activities from Playworks and the America Scores soccer program, journaling and story writing, and over 40 resource tables. We also had the the "City Hall on the Go" truck, great food, and the outstanding DJ Daz.
Under a big tent: 1,500 attended and took advantage of 40 resource tables, with 40,000 books distributed. Photo by Jessica Tang
We cannot begin to thank all who helped, in so many capacities, but it is appropriate to thank Jessica Tang and her team for organizing the event as well as the hundreds of BTU members who volunteered and the membership which financed the event. Many thanks to all.
Onto the the charter school event. Boston charters, the city, the archdiocese, and the school district have joined together to set up what they call the Boston Compact, which has on its agenda the creation of the sharing of best practices (we've heard that before),new partnerships (we've heard this before), and a unified student assignment process.
Of course, we can embrace new ideas — some of which have been in place but virtually unused  — for decades. But we cannot help but feel suspicious as this "Compact" comes about at a time when there is new charter school legislation (not to mention the threat of ainitiative petition)  to lift the cap on the immediate horizon, as well as a lawsuit announced just two days before that threatens to do the same. At a time when charters have consistently been unwilling to change their practice of cherry-picking students to attend and exhibiting extremely harsh disciplinary practices on those who stay, it is difficult to see this compact as anything but a way to pave the way for more charters in Boston at a time when our public schools — schools that are proud to accept all students — are being drained of limited funds.
Charters have had decades to welcome and teach all students. They have for decades forsaken this responsibility. Why do we think they will change now? Meanwhile charters currently drain more than $104 million from our public schools. See what QUEST parents have to say about the compact, and check out this report from WBUR.

BUILDING REPS:
Building Rep Conference Registration Now Open!
The Boston Teachers Union invites our Building Representatives and interested members to join us at our 2015 Annual Building Representative's Conference, as we learn and grow together as an organization. This year's conference is focused on member to member communication and will have a variety of workshops and skill-building opportunities to help you build membership engagement at your school. The conference takes place October 23-25 at the Dedham Hilton. Attendance is free but does require a registration check deposit that will be destroyed upon successful completion of the conference. Please register today.

BTU Welcome Back Party
Please join us this Friday! We have 1,000 books for all ages left over from the book fair that we will be offering to attendees.
Share This Story!