Happy Pride Month! We are excited that we will be walking in Pride this year as a BTU-BPS-GSA contingent, and we would love for you to join us this Saturday, June 9. Please invite other educators, parents, students, and family members to join us as well! Wear your BTU shirt, and please register so we can let you know where to meet up. Contact Derek Arthur at darthur@btu.org with any questions or if you need a t-shirt.
Congratulations to the new cohort of Teacher Leader Fellows who presented their year-long action research projects last week! Read more about all of the presentations, policy recommendations and research. Apply for next year's fellowship and learn more about two teacher leader opportunities in the Professional Learning Updates section of the bulletin.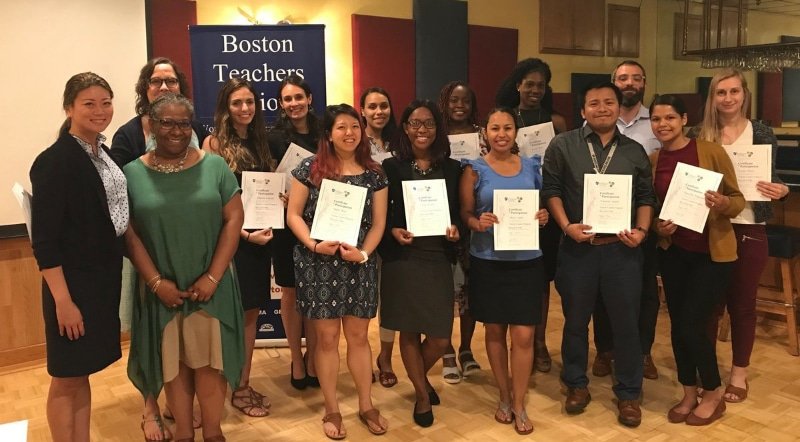 Lastly, did you get a strange robo-call this weekend from the so-called "Democrats" for Education Reform (DFER)? Here's the scoop: DFER employees recently squandered an undisclosed amount of money on a bizarre, automated "push poll" to BTU members, trying to distort the endorsement record of the BTU and the voting record of a BTU-endorsed candidate, specifically Senator Patrick O'Connor from Weymouth. The push poll included false implications about O'Connor's positions on gun violence prevention.
The truth is that Senator O'Connor voted in favor of banning bump stocks and plans to vote this week to support the BTU-backed "Extreme Risk Protective Order" bill, an important gun violence prevention law which he also supported in our candidate questionnaire. Contrary to the facts, the push poll falsely implied that Senator O'Connor A) was opposed to such measures and B) had backing from the NRA. he told us just this week that he has never taken money from the NRA or the local affiliate GOAL.
In fact, Senator O'Connor agreed with the BTU members on every question in our candidate questionnaire, including on gun violence prevention, full funding of public schools, funding for ELL and Sped students, full funding of charter reimbursements, and more. BTU endorsements are based on the issues we value and care about as educators, not on party affiliation. On BTU education issues, O'Connor scores 100%—which is more important than his party affiliation which happens to be Republican.
That's more than can be said about DFER and those behind last weekend's push poll. They may call themselves Democrats, but a Republican who is 100% with BTU on priority issues is always preferable to DFER "Democrats" who attack union members with funding that would better be spent on helping the students in our schools. DFER was a strident backer of the Yes on 2 campaign and is part of a national anti-public education, anti-union network funded by dark money and billionaires. Recently, the Colorado Democratic Party asked the group to stop using the word "Democrats" in its name! The United Federation of Teachers has exposed their funding sources, which are exposed further here by Ballotpedia: DFER's funding sources.
Meanwhile, the BTU is continuing to move forward in our efforts to create the Schools our Students Deserve through our contract negotiations and advocacy. We were at the State House just last week to support gun reform legislation and continue to work with Senator Warren's office to amplify the voices of educators on how to make schools safer. If you missed the survey last week, we hope you will take it today!
There are so many ways our members make us #BTUproud. Thank you for all your work on behalf of our students and schools. Have a great week and Happy Pride Month!